NEUMAYER HÄUSER
The NEUMAYER HÄUSER are a community-based social housing project in Hausach, where people from different backgrounds and family constellations can support each other in the community, regardless of their origin.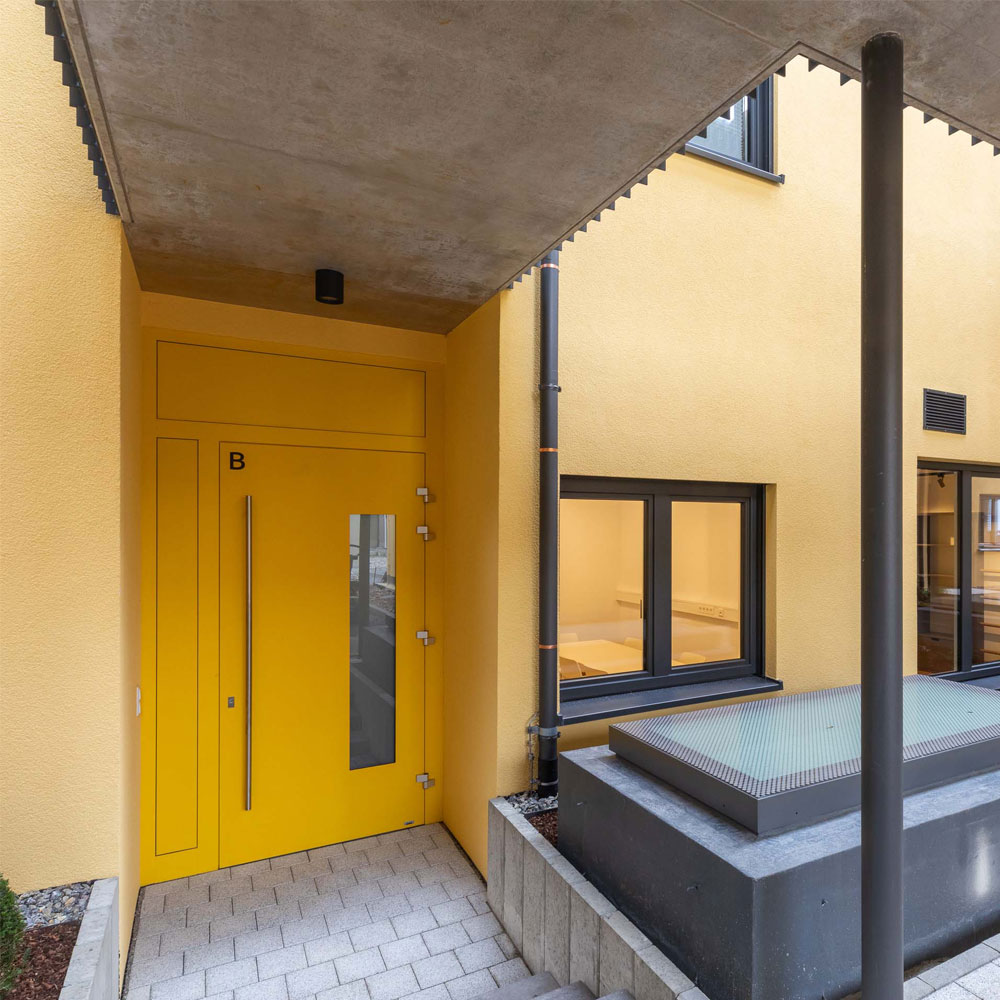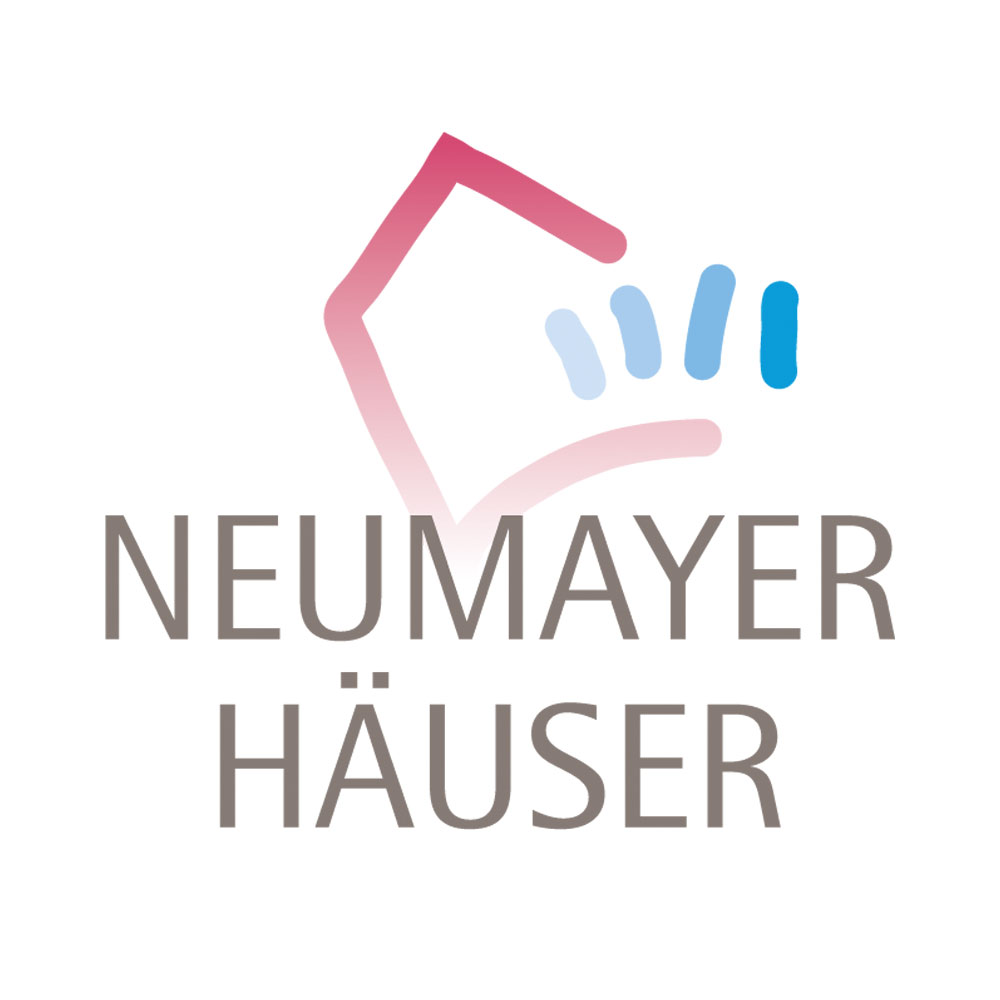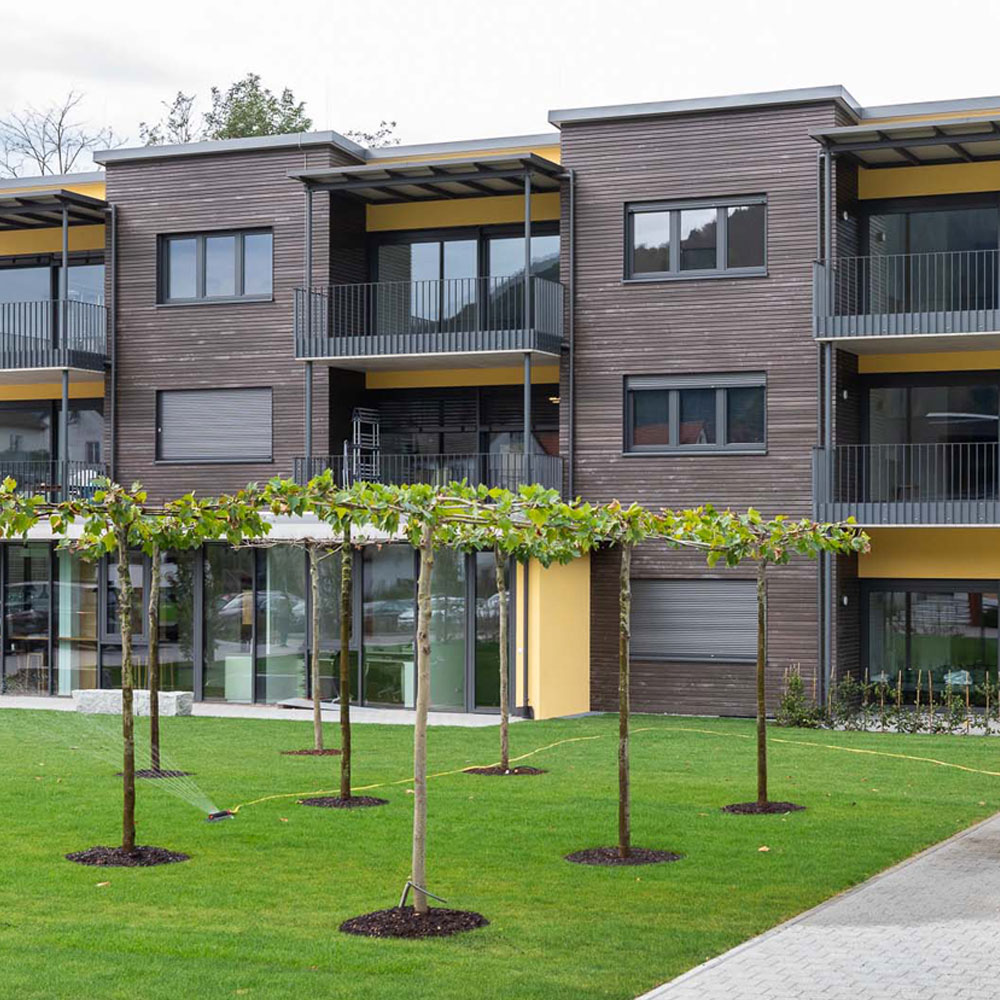 Why a community-based social housing model?
It is often only temporary and hard to control circumstances that push people to the edge of society. In order to support these persons, the NEUMAYER STIFTUNG has made it its goal to provide affordable housing in Hausach, in the Kinzigtal region.
In 19 residential units, which range from one- to five-room apartments, the NEUMAYER HÄUSERN provide living spaces for people in need and thereby create a social living space that serves as a model and catalyst for a collective response to an issue currently facing society.
The NEUMAYER HÄUSER are to be seen as a preventive offer with the aim of stabilizing the personal situations of tenants within 5 years while also serving as a way to counteract social decline.
The foundation was able to win the Diakonisches Werk Ortenau as a partner for the NEUMAYER HÄUSER.
NEUMAYER HÄUSER is a response to a highly topical and currently much-discussed issue. Together, we want to take on the challenge of shaping community life for the future and creating affordable housing and services that are designed to meet the needs of the local society.

Astrid Schimmelpenninck, Director of Projects

Why a community-based social housing model in the rural region of Hausach?
The NEUMAYER STIFTUNG advocates for a society characterized by social cohesion and equal opportunities, in which people are there for each other and take responsibility. The founder, Hansjürgen Neumayer, was committed to providing affordable housing for people in need in Hausach.
The NEUMAYER HÄUSER address one of the most pressing social issues of our time: the lack of affordable housing is a major factor in the growing risk of poverty among families, single parents, and the elderly. Even those with regular incomes are often unable to find affordable housing. Housing shortages are particularly critical for people with physical or mental illness, rent debts or a Schufa record, or in other precarious situations, who have no chance of finding housing on the free housing market.
In urban areas, this supply gap is already being addressed. In rural areas, it is a known fact, but often occurs in a more concealed way and solutions are still pending in many places. The NEUMAYER HÄUSER are aimed at serving as a blueprint for rural areas.
Who will live in the NEUMAYER HÄUSER?
Within the framework of the NEUMAYER STIFTUNG, the target groups of the community-based social housing model NEUMAYER HÄUSER are single people, couples, families and senior citizens whose financial means are not sufficient to afford or maintain adequate housing on the free housing market.
These people usually have their own income, but still need state support and feel constant financial pressure. They are already known to the partnering social institutions. The NEUMAYER HÄUSER offering is intended to reduce and avoid the risk of complete dependence on the state assistance system and the associated social decline that often comes with such dependence.
NEUMAYER STIFTUNG's collective housing model is a sign of the foundation's close ties with its home – and equally, in the most literal sense, an important building block for housebuilding in our community. NEUMAYER HÄUSER will fill a gap with regards to the need for affordable housing.

Wolfgang Hermann, Mayor of the Town of Hausach

What does "Wohnen plus" include?
The project is a preventive service and offers transitional assistance: People in need are given the opportunity to stabilize their personal situation – socially, psychologically and/or financially – in the NEUMAYER HÄUSERN within five years. Afterwards, the tenants should be able to take advantage of offers on the free housing market.
The concept of community-based social housing thrives on bringing together people in need in different life situations and circumstances. Tenants should, above all, be given the opportunity to get "back into society" through a central and community-promoting housing setting.
Often the tenants do not have a secure family structure in the background. It is therefore all the more important that neighborhood support and a well-functioning, empowering domestic community are fostered by the housing concept. Community-based social housing should aspire for a lifestyle of mutual support and togetherness within the community.
Since the structural conditions of the target group are related to specific needs, socio-pedagogical support and close networking with social institutions, nonprofits and other organizations in the Kinzigtal region are an integral part of the concept. The Diakonisches Werk Ortenau in Hausach was brought in as a partner for this purpose.
Individual support and offerings to strengthen the housing community while promoting personal development are essential components of the NEUMAYER HÄUSER. In this respect, the Diakonisches Werk Ortenau in Hausach plays a facilitating role.
In addition to the multi-layered concept, which is completely geared to Hausach and its needs, we were also convinced by the great experience of Diakonisches Werk Ortenau in the region as well as the team that developed NEUMAYER HÄUSER together with us.


Astrid Schimmelpenninck, Director of Projects

Community living as an opportunity
NEUMAYER HÄUSER's housing offer is conceived as a stabilization phase, with the goal that after up to five years, tenants will be able to find and keep housing on their own on the free housing market.