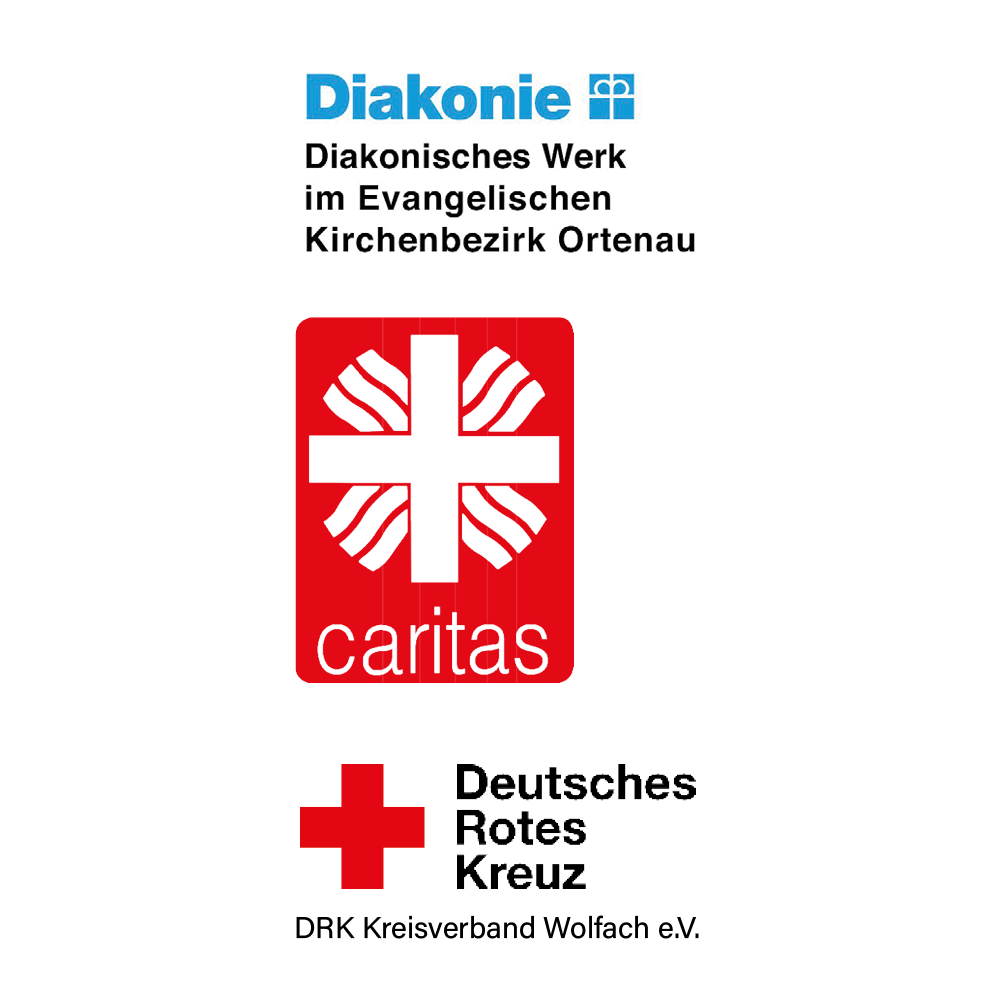 Project initiator:
Caritasverband Kinzigtal e.V., Diakonisches Werk im Evangelischen Kirchenbezirk Ortenau and Deutsches Rotes Kreuz Kreisverband Wolfach e.V.
Anybody can suddenly find themselves in need, for many different reasons. To prevent people from ending up in difficulty and slipping through the net as a result of crisis situations that are often no fault of their own, such as accidents, illness or twists of fate, Caritasverband Kinzigtal e.V. and Diakonisches Werk im Evangelischen Kirchenbezirk Ortenau offer unbureaucratic support at short notice for individual cases where there is no other (state) help.
Project description:
The consequences of the Covid-19 crisis are not only serious in terms of health and economic policy. The uncertainty for the many people who already had to make do with scarce resources or lived at the subsistence level before the Covid-19 crisis is great during the pandemic. Many are afraid that they will not be able to feed themselves and their families with the short-time allowance or that they will lose their jobs altogether. The emergency aid arranged through the NEUMAYER STIFTUNG will top up the social benefits granted.
Diakonisches Werk
The organisation Kirchliche Allgemeine Soziale Arbeit (individual support) opens up spaces where people can find clarity about questions, uncertainties or contradictions in life. It picks up on the skills of the people seeking advice and enables them to make changes to their own situation in life. It provides support, information and practical assistance. The advisors have methods and skills for establishing contact based on trust and for improving the ability to act of the people seeking advice.
Caritas
We are always there whenever help is needed.
Project aims:
The aim is to provide emergency financial assistance to people in (pre-crisis) employment subject to social security contributions to bridge or top up the benefits granted.
Project location:
Hausach and suburbs, Baden-Württemberg
Project target group(s):
People in a one-off emergency situation triggered by Covid-19 and through no fault of their own, who are linked to the social counselling services of the welfare associations.
Aim of the funding:
Unbureaucratic help for people who have fallen into financial difficulties due to the Covid-19 pandemic.
Type of funding:
Emergency aid for the needy
Duration of funding:
Since May 2020; ongoing during the Covid-19 pandemic
Contact details of the project initiator:
Caritasverband Kinzigtal e.V.
Sandhaasstraße 4
77716 Haslach
Telephone: +49 (0)7832 999550
Email: info@caritas-kinzigtal.de
Diakonisches Werk im Evangelischen Kirchenbezirk Ortenau
Dienststelle Hausach, Körperschaft des öffentlichen Rechts
Eichenstraße 24
77756 Hausach
Telephone: +49 (0)7831 96690
Fax: +49 (0)7831 966955
Email: hausach@diakonie-ortenau.de
www.diakonie-ortenau.de
DRK Kreisverband Wolfach e. V.
Hauptstrasse 82c
77756 Hausach
Telephone: +49 (0)7831 93550
Fax: +49 (0)7831 935555
Email: info@kv-wolfach.drk.de
www.kv-wolfach.drk.de